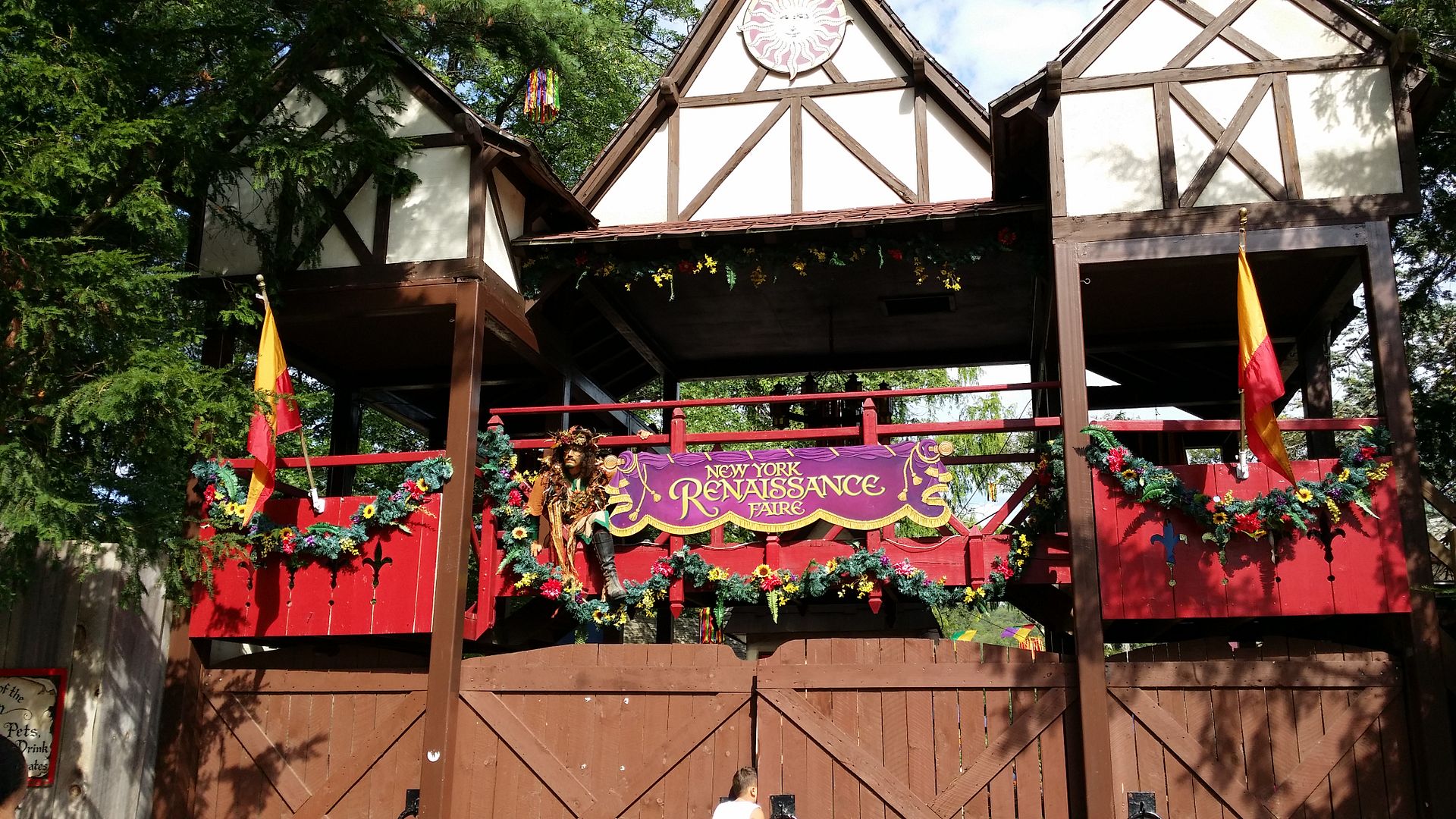 The Renaissance Faire, that is!
Once again, Drew and I made our way up to Tuxedo, NY. This time it was just us, no friends.
These days, when I go to the faire, I don't wear a costume per se, but I do wear ...well, a few chosen garments from the
Pyramid Collection
and/or
Holy Clothing
, two lines that feature a lot of boho, romantic, renaissance pieces Brown skirt with lots of ribbons and laces, white peasant blouse, lace up green vest. When worn together ... "costume".
We stopped at the Orange Top Diner, that throwback to the 1970's. Seriously, when was the last time you saw a restaurant cooled by a wall unit air conditioner and a couple of ceiling fans? We dined on bacon, eggs and home fries, then made our way to the faire.
The faire has a lot of entertainment -- strolling musicians and actors doing improv with the crowds, stage shows featuring comedians, musicians, magicians and the like, fortune tellers, games of skill (such as archery), rides for the children, and, of course, food, drink and souvenir shops. The entertainment begins even before the gates open, as you are welcomed to the Shire of Sterling, greeted by no less of a personage than the Mayor, his lady wife, and the Sheriff of Nottingham.
There are two ongoing stories, one involving the Queen and her Court, the other involving Robin Hood. Throughout the day there are scenes around the faire that bring the stories to life. Often the two stories combine, such as during the Living Chess Game and the Joust (two of our favorite shows).
We love Stewart and Arnold, a father and son knife-throwing act. Then there's Ded Bob -- a puppeteer (I won't say ventriloquist, he wears a veil over his face); the puppet is a skeleton named Bob, who is sarcastic and tells PG-13 jokes. Drew's favorite is Andre Dupin, a mime/juggler/magician with a very sarcastic tone. And, of course, there's Hey Nunnie Nunnie, a comedy act.
It was market weekend, which meant that if you spend a certain amount of money on souvenirs and etc., you could take your receipts to the information booth and obtain two free tickets to come back another weekend. We have the free tickets, we're thinking we might go back next month.
In the meantime, here's a video I found: