Last summer, Drew and I spent a day at the Intrepid Sea, Air and Space Museum. The
Intrepid
, as you may recall, was an aircraft carrier, known primarily for its missions during WW II and the Vietnam War. It's a museum now, permanently docked at Pier 86. You can read about last year's visit
here
.
Well, Drew so thoroughly enjoyed last year's visit that he decided to become a member of the museum. And that's how we were invited to an after-hours "open house" for museum members. Most of the exhibits were open, and there were special tours and talks for the members. We had a chance to view the Vietnam section of the hanger deck, which was under construction when we were at the museum last summer. We had the opportunity to view memorabilia found on the ship or donated by various sailors, such as survival kits, cigarette lighters, log books, etc., which are not on public display. And we took an in-depth tour of the space shuttle
Enterprise
.
But what I liked most was a temporary exhibit.
What does a TV show like
Star Trek
have to do with a history and science museum?
Simple, really. The space shuttle
Enterprise
was so-named because of the influence of
Star Trek
fans. And NASA used actress Nichelle Nichols, who played Uhura in the original series, to actively recruit astronauts for the shuttle program, to bring women and minorities into the space program.
So...
the experience
:
"Celebrate the 50th anniversary of
Star Trek
at the Intrepid Museum— the first venue in the United States to host this immersive "Trek Tech" experience, spanning 12,000 square feet on Pier 86. Become a cadet at the Starfleet Academy, and embark on an interactive journey with Leap Motion, projection mapping, holograms and other
Star Trek
technologies. After student orientation, you'll visit nine zones focusing on the Academy's special training in language, medicine, engineering, navigation, command and science. Complete your training to learn your specialty. In addition to
Star Trek: The Starfleet Academy Experience
, the Museum will feature special
Star Trek
–themed programs and tours
."
If you're not a
Star Trek
fan, you can stop reading here.
The premise is that you are a recruit, seeking admission into Star Fleet Academy. Your interactions with the exhibits will determine whether you are admitted into the Academy, and what course of study you will pursue. When you enter the exhibit, you are issued a wrist band, which, when activated, allows you to interact with many of the exhibits. You'll be asked to furnish an email address, because at the end of the tour you'll receive your results.
The first thing you will see is a model of the Enterprise:
There are costumes on display: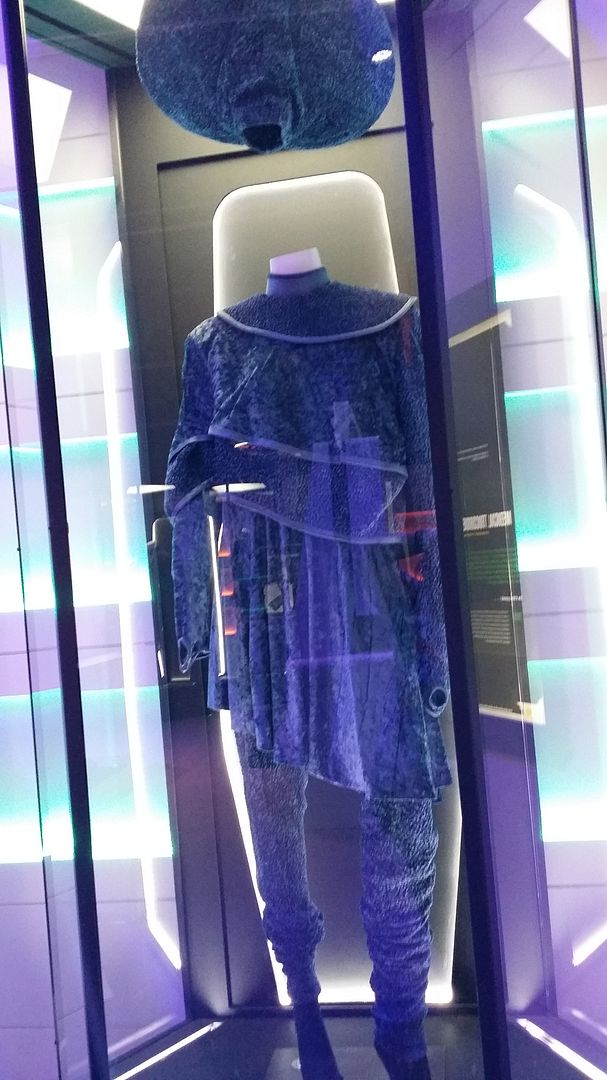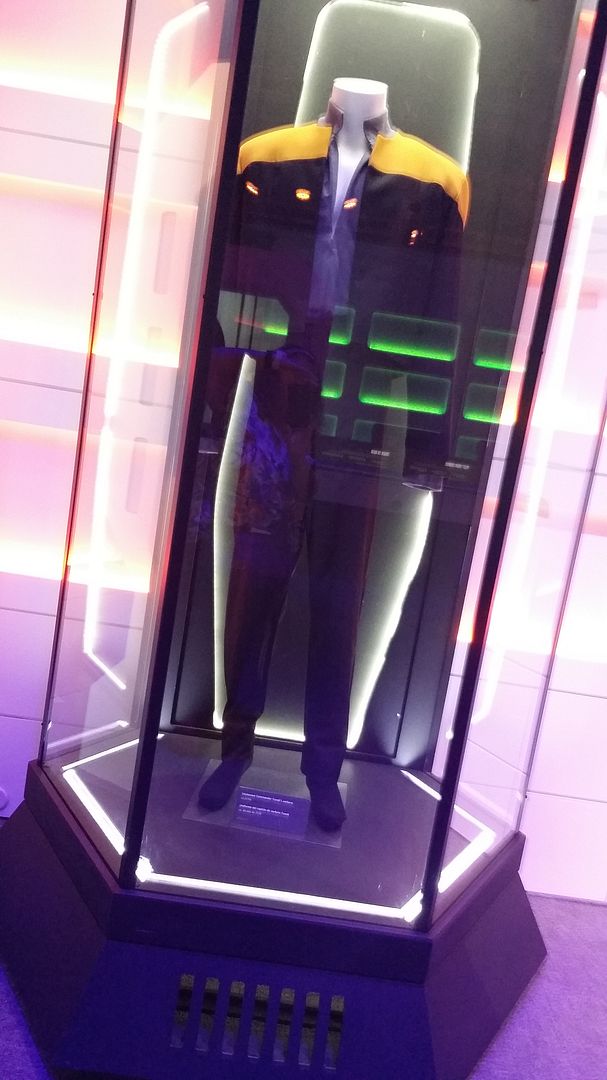 The bridge of the
Kobiyashi Maru
:
Yes, you actually sit on the bridge and try to rescue personnel from a dying spacecraft.
You also get to use a transporter:
Over at the Space Shuttle exhibit, you'll find this prop from the TV show: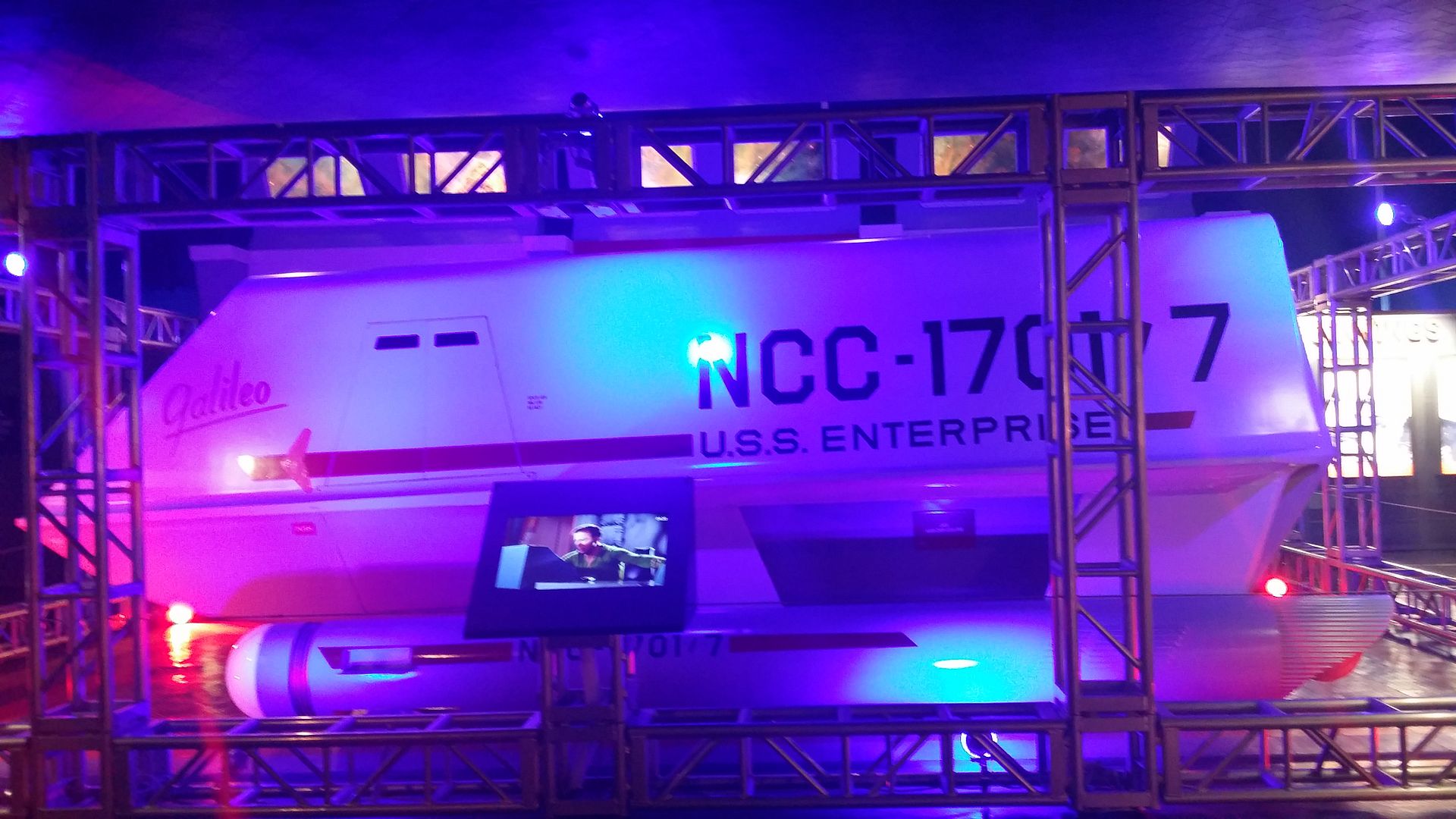 For those of us who have loved the show since forever, it was a wonderful experience. Wish I could do it again!