So we heard about this restaurant in
Newsday
:
It's the biggest BurgerFi in the nation, and as of Friday it is serving up hormone-and-antibiotic-free burgers and the like in Uniondale. The new 6,000-square-foot branch of a Florida-based "green" franchise burger chain seats about 200 people and uses solar panels for about 20 percent of its energy usage.
The eatery, close to both Hofstra University and Nassau Coliseum, occupies the fully renovated Hempstead Turnpike building that formerly housed Social Sports Kitchen. Come the warmer weather, floor-to-ceiling windows will open to the outdoors.
There are already two Long Island BurgerFi locations, in Oceanside and Woodbury. This one is the fifth to open in New York, and the 66th in the nation.
BurgerFi is at 1002 Hempstead Tpke., Uniondale, 516-280-3900.
Well, with that kind of write up, we had to go.
Exterior was really cool.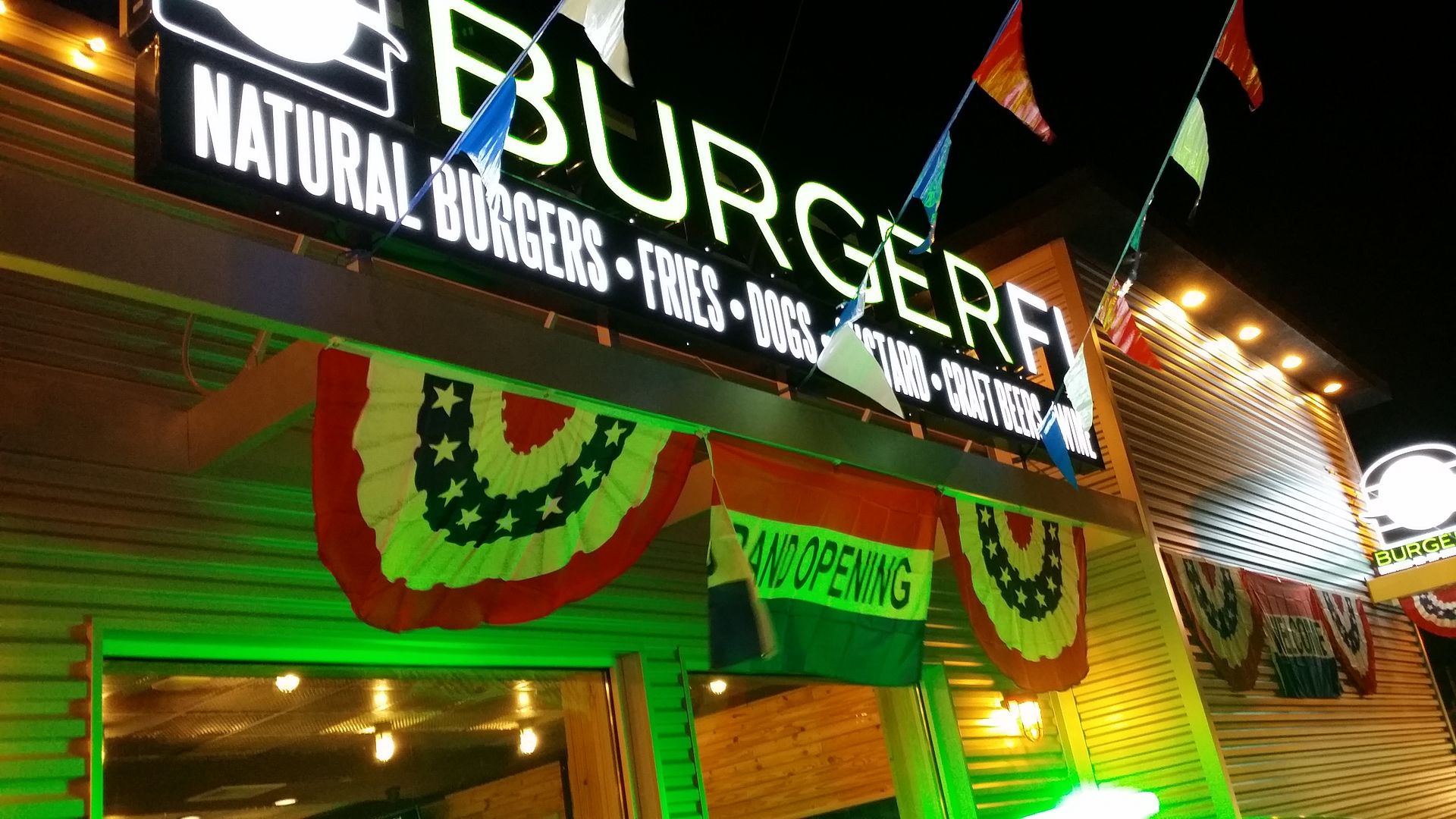 Inside is loud, cavernous. The gimmick here -- you place your order at the counter, you're handed an electronic "tracker" which you must place in the center of your table. Your order is brought to your table. Even if you order your food "to go", you're asked to wait at a table with your tracker -- I'm wondering what will happen on a really busy night.
On a recent Friday night, we were the only customers over the age of 25 -- the place seems to be very popular with Hofstra students. Can't imagine why,
Burgers and hot dogs are served on potato rolls and are offered with a variety of toppings. I liked the kobe beef-style hot dog with mustard and neon relish, but to be honest, a Nathan's dog is better. Similarly, my hamburger -- served with Swiss cheese, grilled onions,grilled mushrooms and BurgerFi sauce, was merely "OK".
I was unable to decide between onion rings or fries, so I ordered the "Cry and Fry" -- a huge order of fries topped with three large onion rings. The fries are cut shoestring style, with just enough potato skin left on to add a bit of bite. The onion rings were a bit too salty.
I'd certainly go back again if I found myself in the neighborhood, but with so many other burger places on Long Island, it's not worth the effort to make a special trip to BurgerFi. Given the location, however, I'm sure they'll make a fortune here.
.