Welcome to beautiful Bethpage Ballpark. No, the ballpark is NOT located in Bethpage. It's actually in Central Islip. The county sold the naming rights to the Bethpage Federal Credit Union, hence the confusion.
It's a 6,000 seat arena, home to the famed
Long Island Ducks
of the Atlantic League of Professional Baseball. It's a small ballpark, almost all of the seats are field level. The upper deck consists of a few luxury suites, and a sit down restaurant called "The Duck Club", behind home plate. "club level" seating means the upper deck seats in front of the restaurant.
Independent leagues have become very popular, and why not? For the cost of a movie you can see a baseball game, root for the home team, get some fresh air. Making the pilgrimage to Flushing costs and arm and a leg, but driving over to Central Islip...Well, Drew and I have become Long Island Ducks fans.
There are 8 teams in the Atlantic League, in two divisions. Last summer we bought tickets for 7 games, so that we could see the Ducks play each team in the league at least once. And we chose games where there was either a promotional giveaway or a fireworks presentation.
We have the same goal this year. Our first game was Saturday night, when the Ducks played the Southern Maryland Blue Crabs. For this game we paid the extra fee for club level seating.
So we ate in the Duck Club. I had a pulled pork sandwich (it comes from a local BBQ restaurant, Smokin' Al's) and Drew had roast beef. Both sandwiches came with thick cut French fries.
Here's the view from our seats: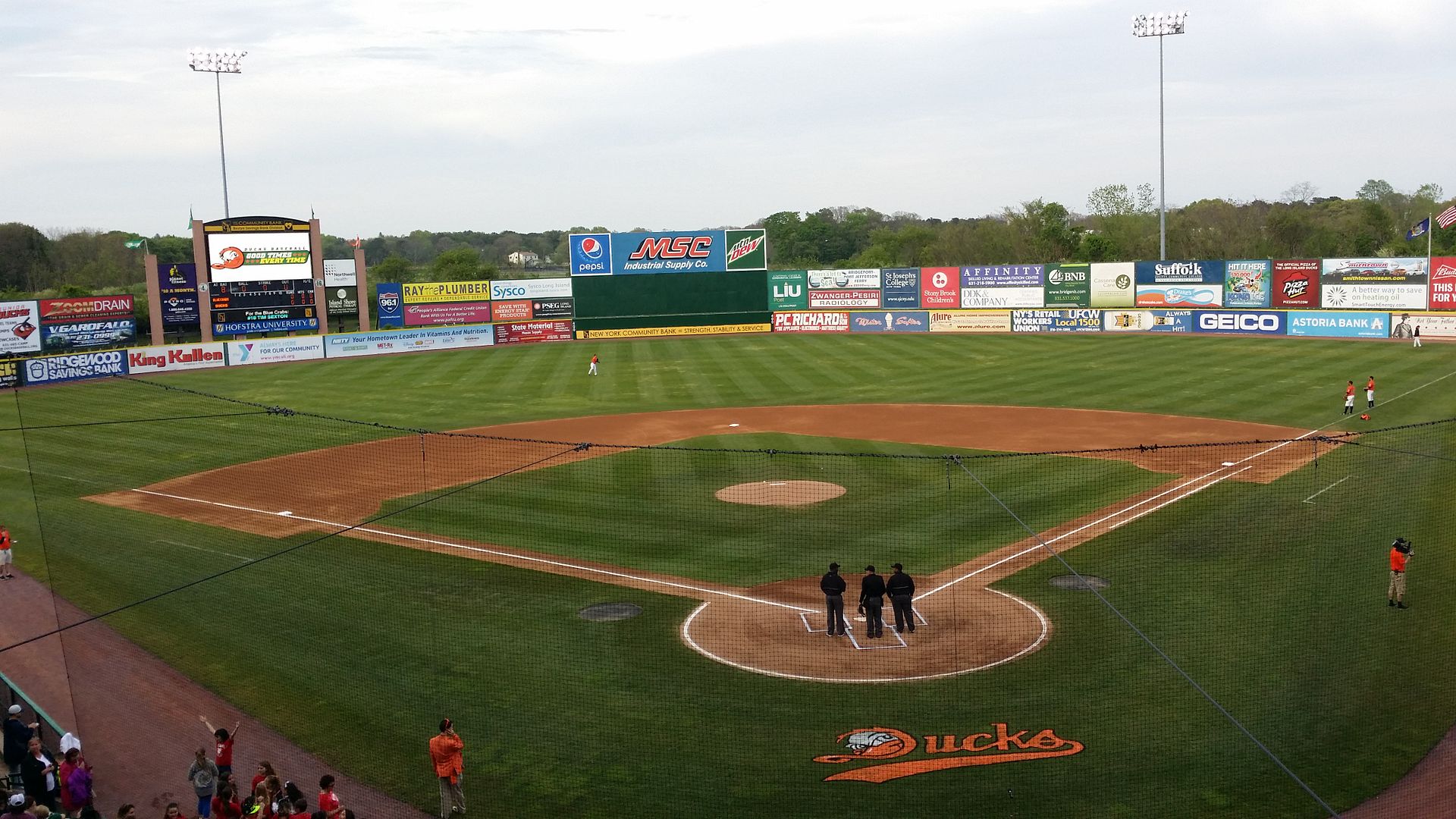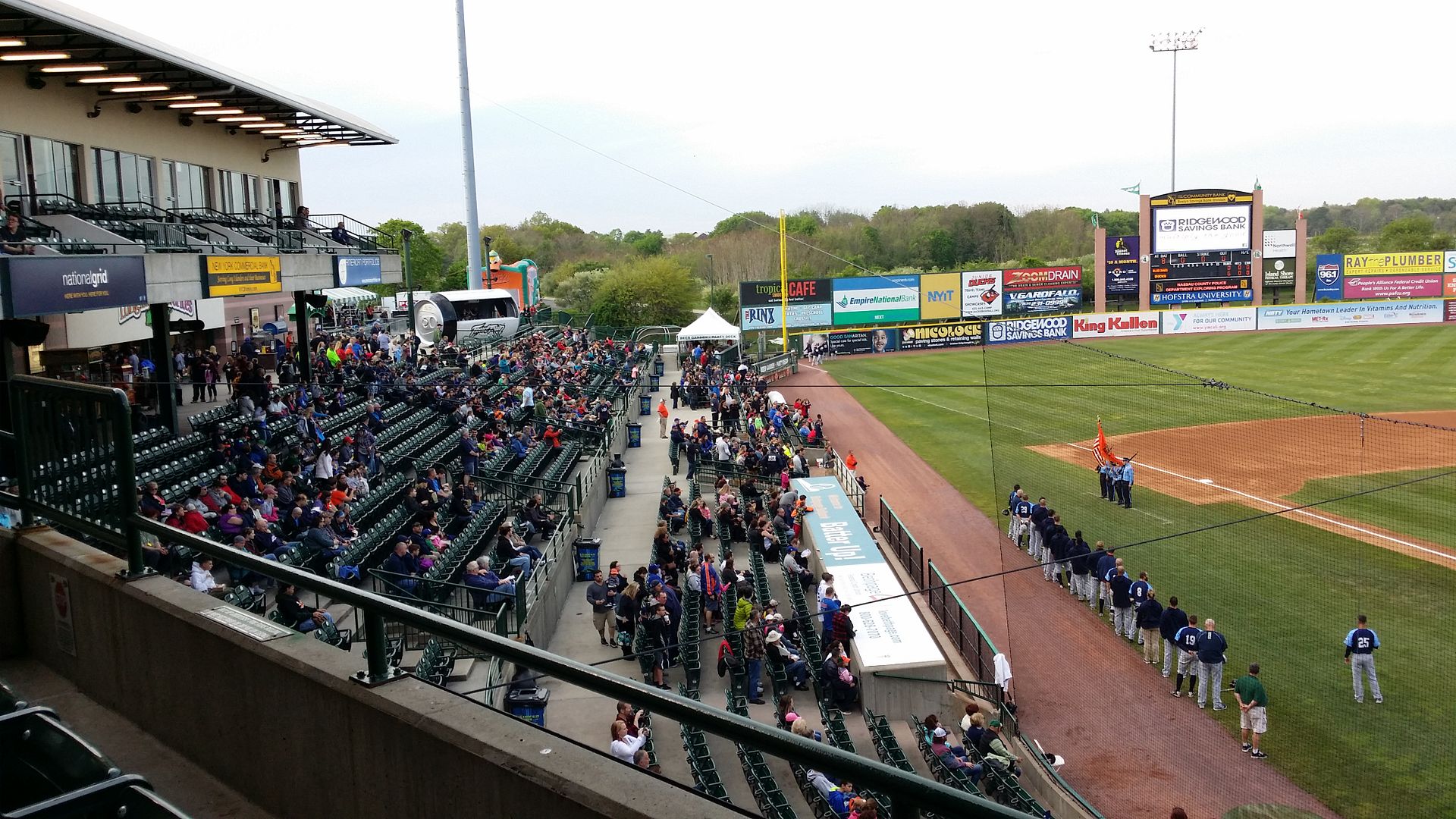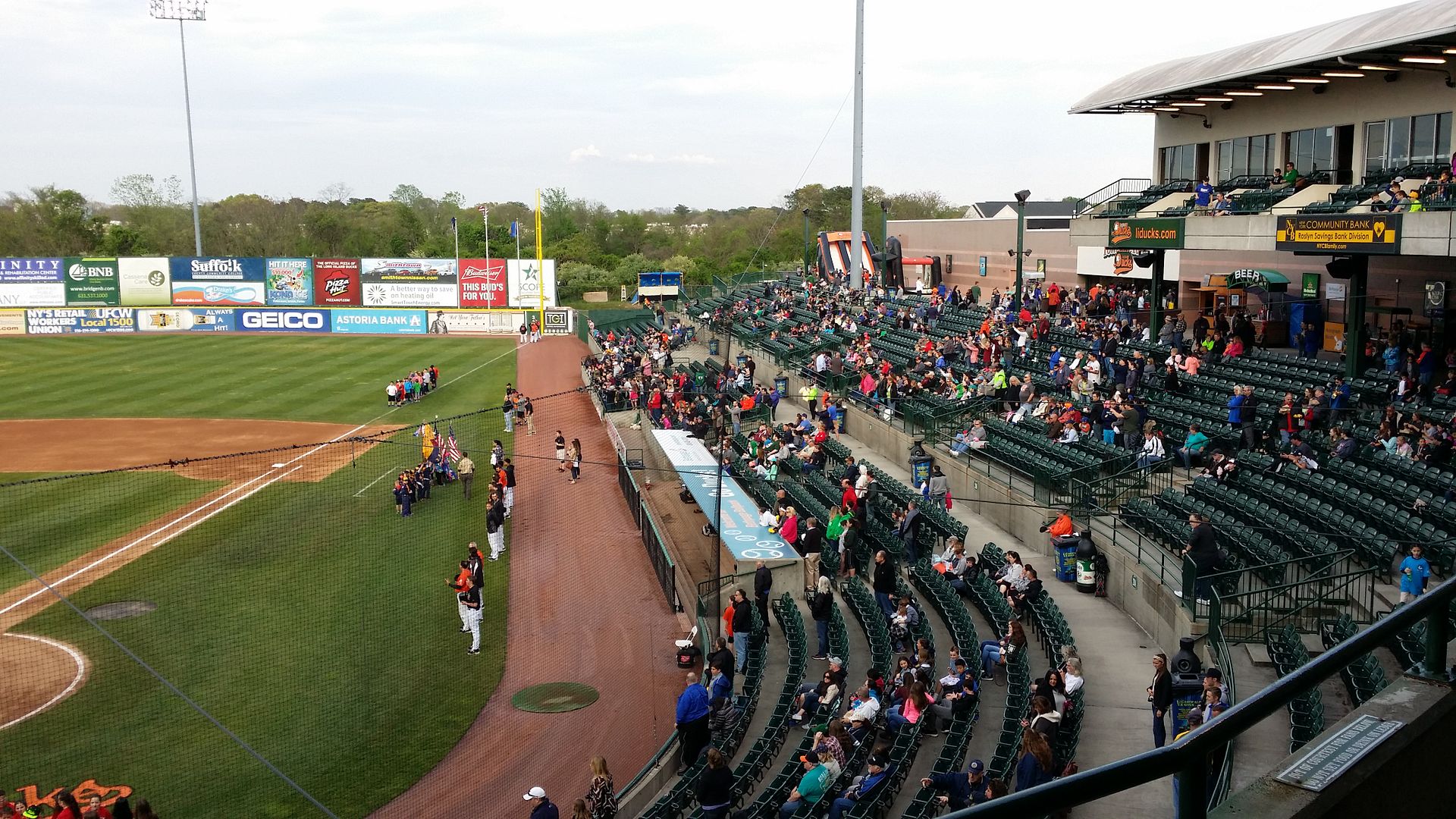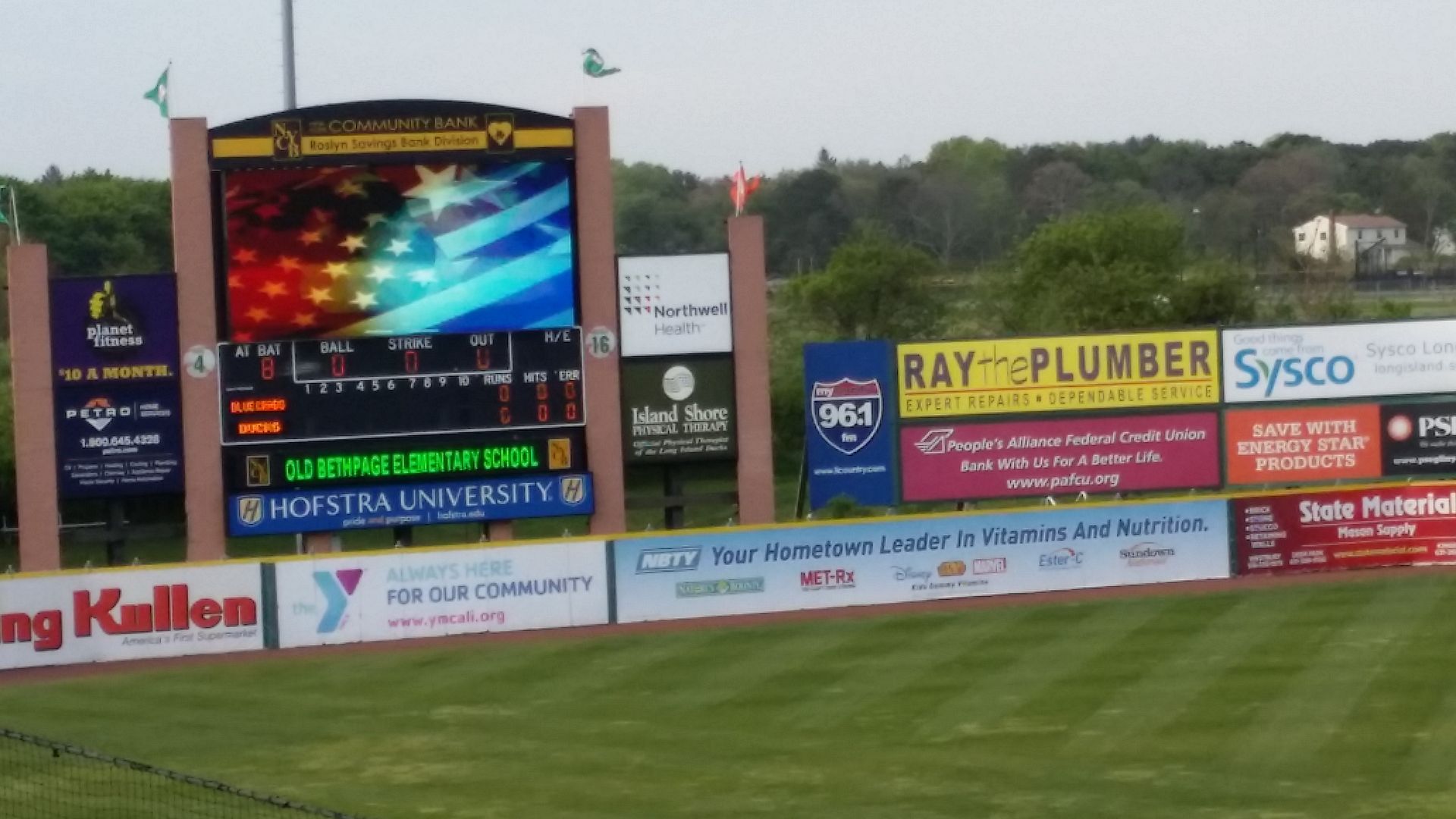 It's small and cozy, isn't it? And thy fill up the seats, in part by inviting every local school, youth group, scout troop, etc. to either sing the national anthem or act as color guard; if the kids are performing, the parents show up to watch, and they all stay for the game.
And, of course, we got to see Quakerjack, the team mascot.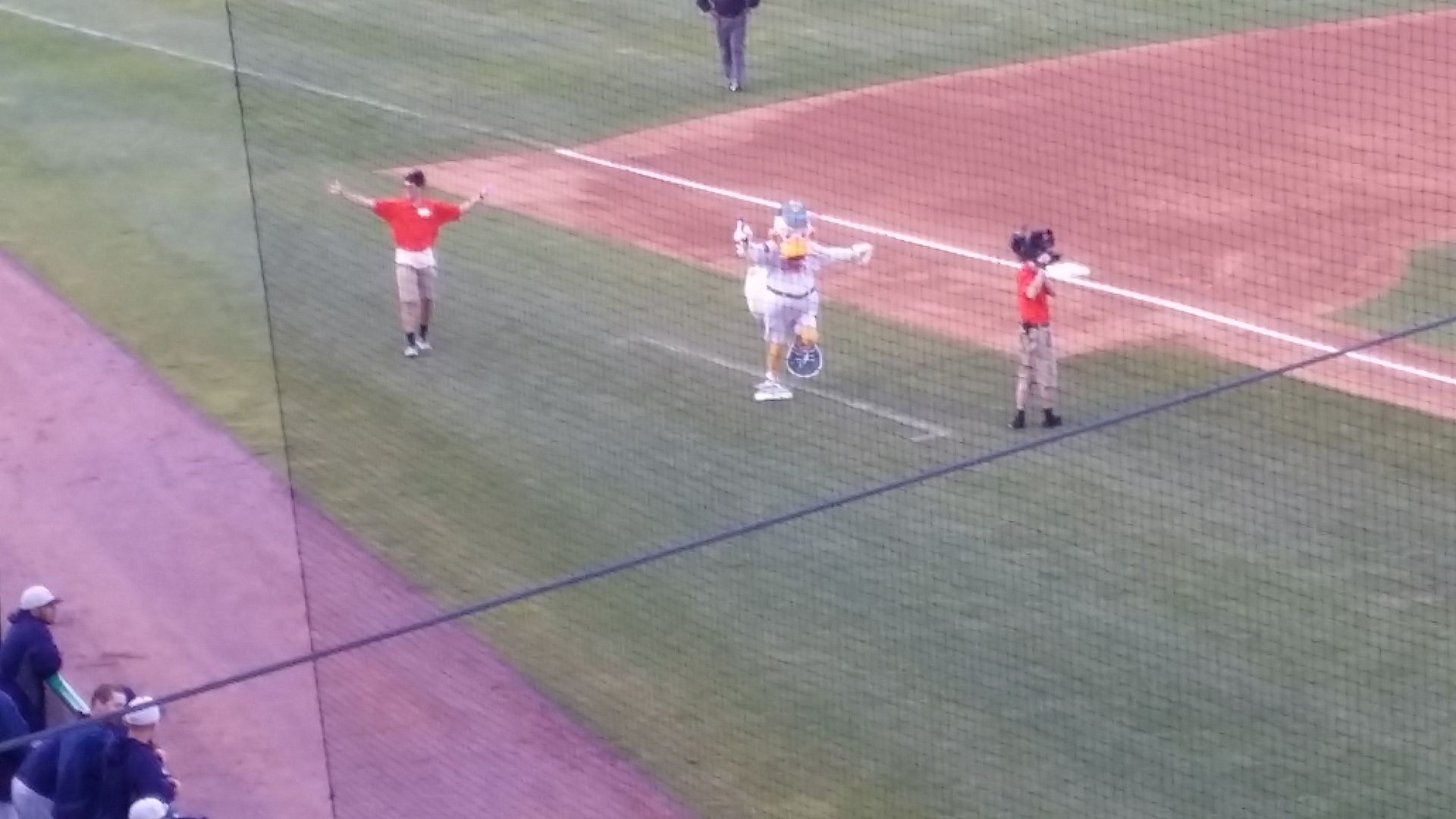 Later, when it rained, the mascot put on a poncho:
It was a great game. The Ducks dined on Blue Crab. The Ducks hit three home runs, and they were helped a lot by a Maryland second baseman who made the same throwing error twice. Final score Ducks 9, Blue Crabs 2.
It was also
Grucci fireworks
night. So...when the singers got to "and the rockets' red glare", we saw a brief moment of red fireworks. And each time a Ducks player hit a home run, we saw red fireworks. After the game, we saw a short but wonderful fireworks display. Nice way to end an evening.
Our next game isn't until June 17, but I'm already looking forward to it.