so because Becca volunteered to participate in
Urban Plunge
, Becca had the opportunity to move into her dorm yesterday, rather than on Sunday. today she is involved in community service, and tomorrow she will be able to relax when the rest of the freshmen arrive.
She had a three-hour window in which to move into her dorm, since the building opened for registration at 10 AM and there was an Urban Plunge orientation in the afternoon.
So our morning began very early, as we packed up Drew's van, packed additional stuff into a friend's
SUV, and packed people into my sister's car - it was like Becca was a Maharani with her entourage (Beca, Jen, Drew, all three of my sisters and a family friend helped move her in).
After a quick stop at Starbucks we caravaned up the Long Island Expressway (in rush hour traffic no less). Wish I'd had the camera out when we were in Queens...there's a spot on the highway, you come over the top of a hill and in the foreground you see the old New York State Pavilion from the 1964 World's Fair and in the background you see the entire NYC skyline -- I've been looking at that view my whole life and never get tired of it.
So we drove over the 59th Street Bridge (with the theme from
Taxi
in my head), across Central Park and down Broadway, passed Lincoln Center and onto West 60th Street -- welcome to Fordham University!
Colleges and universities have been moving kids into dorms since the dawn of time, they have a system...
You pull up in front of the form, and while the student goes inside to get her ID and keys,(Becca came back clutching hers like it was a Golden Ticket for Willy Wonka's factory) the rest of the crew empties the car as fast as they can. Someone must stay with the stuff and someone else must go park the car. (In this case, there was a garage on West 61st, $13 with validated parking.) there are always some sort of carts available and older students to help move the stuff upstairs.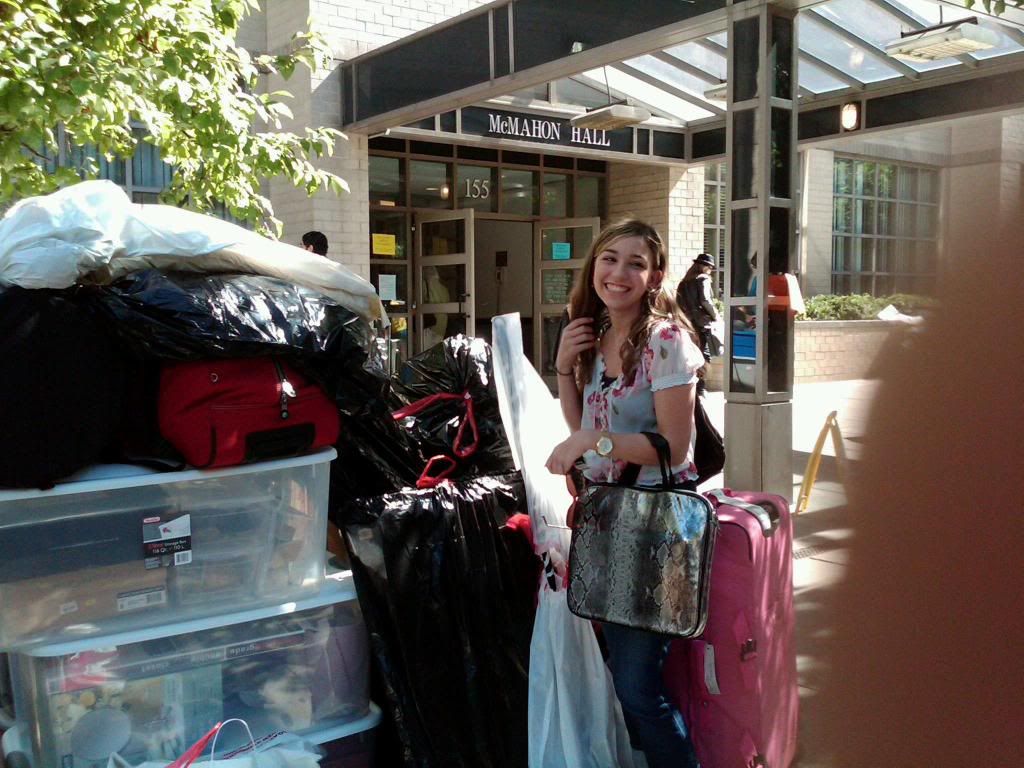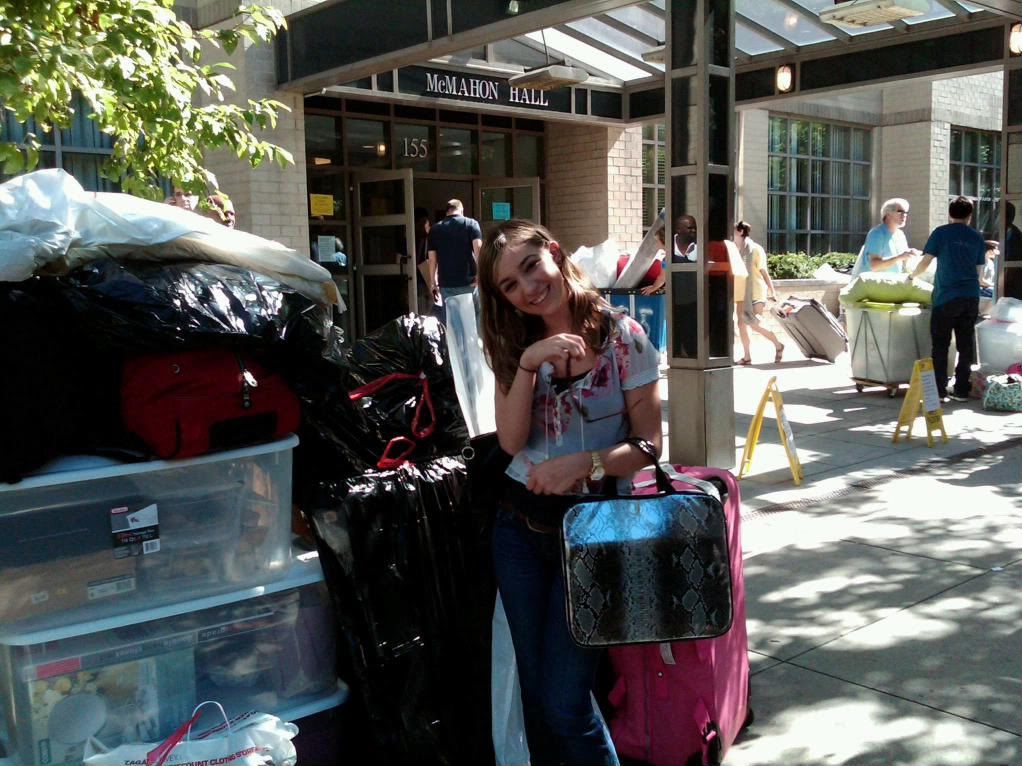 Becca's apartment is on the 5th floor. It's got 3 bedrooms, kitchen, living room and two bathrooms. There are places for 8 girls int eh apartment. Becca and her apartment-mate Nancy moved in yesterday, the other 6 will arrive tomorrow.
Becca's two roommates, Rebecca and Erica, are also Jewish -- prompting jokes about the Jewish "ghetto" at a Jesuit school.
And get this -- some of the faculty have apartments in the building. Becca's next-door neighbor is Father G..
A few pictures of Becca's room after we set things up: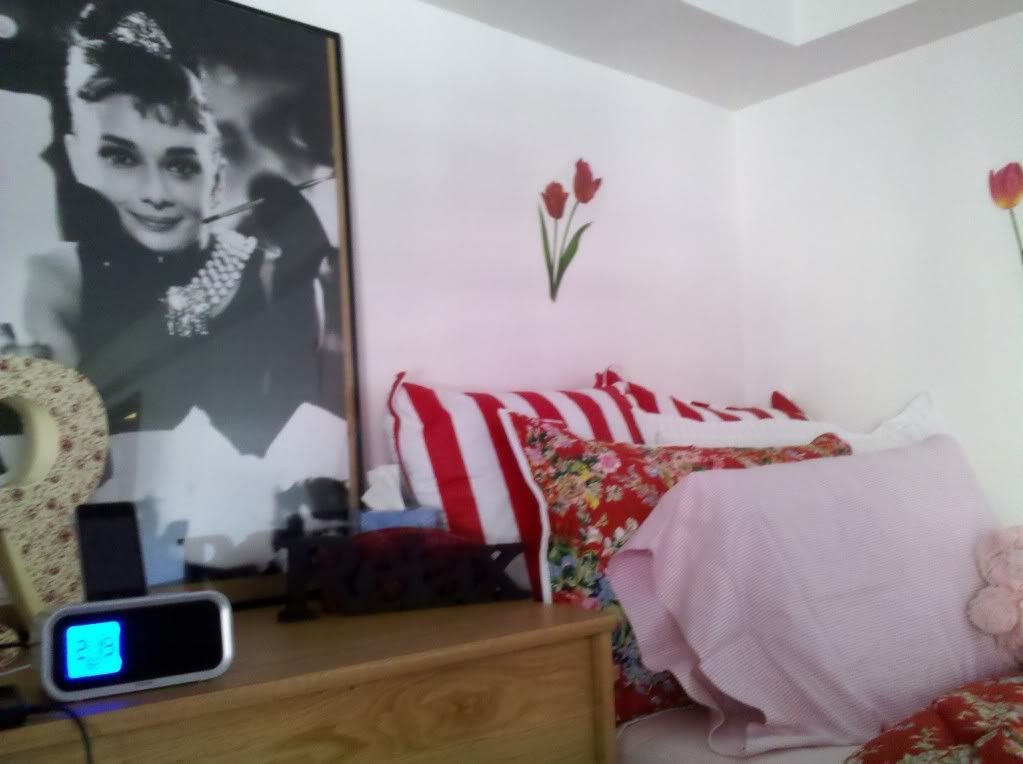 and the common areas: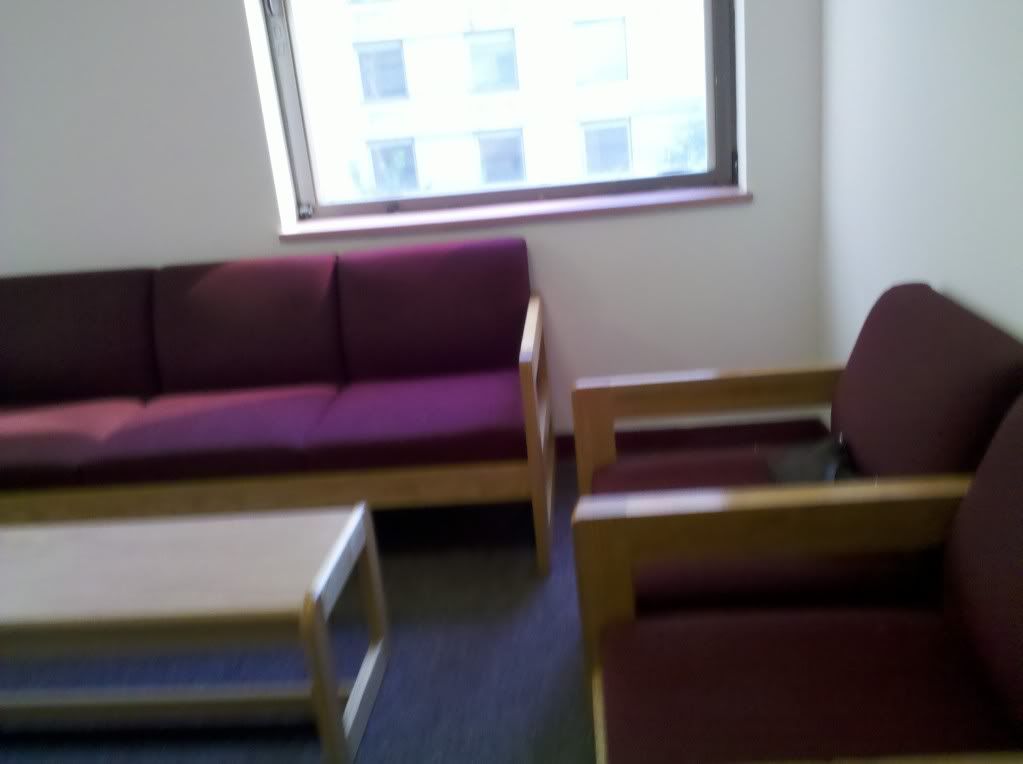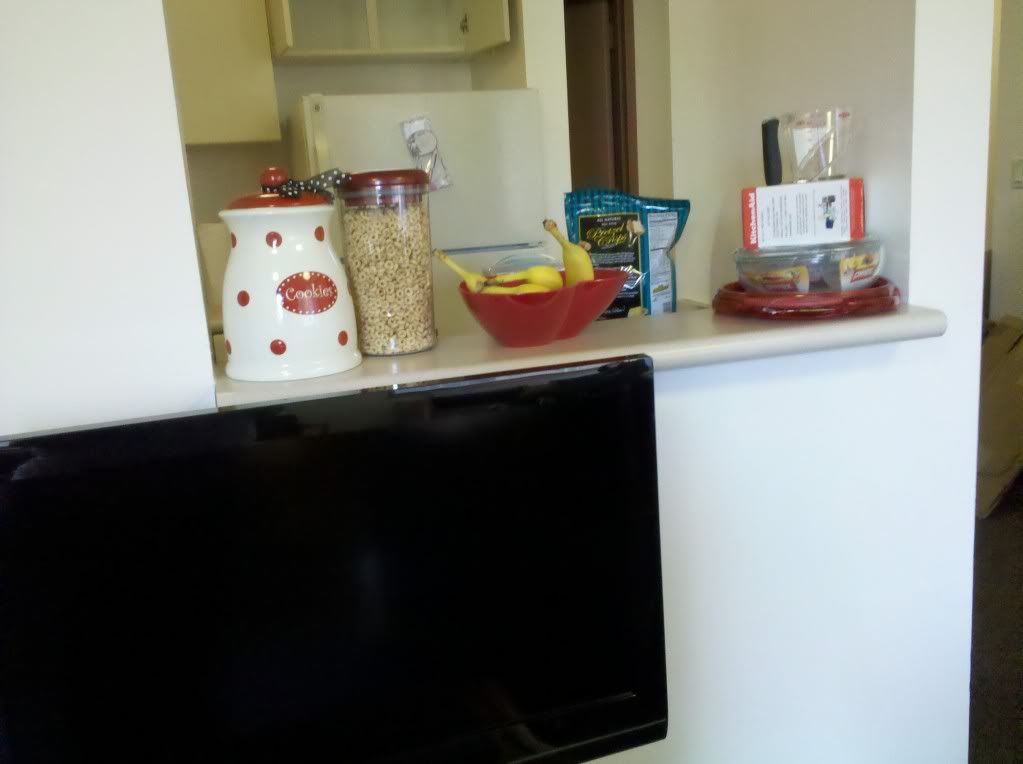 There was no emotional goodbye scene, Becca had to run out to the meeting while we were still unpacking. Jen had a bad moment just before we left...tearry-eyed as she thought about leaving her baby sister.
Of course, she won't be away for very long -- she's coming home for Rosh HaShanah, but just for dinner -- she won't miss classes for the holiday.
Jen's turn is next week, but she's going up to Rhode Island alone this time. Her friends will help her move inot the house.