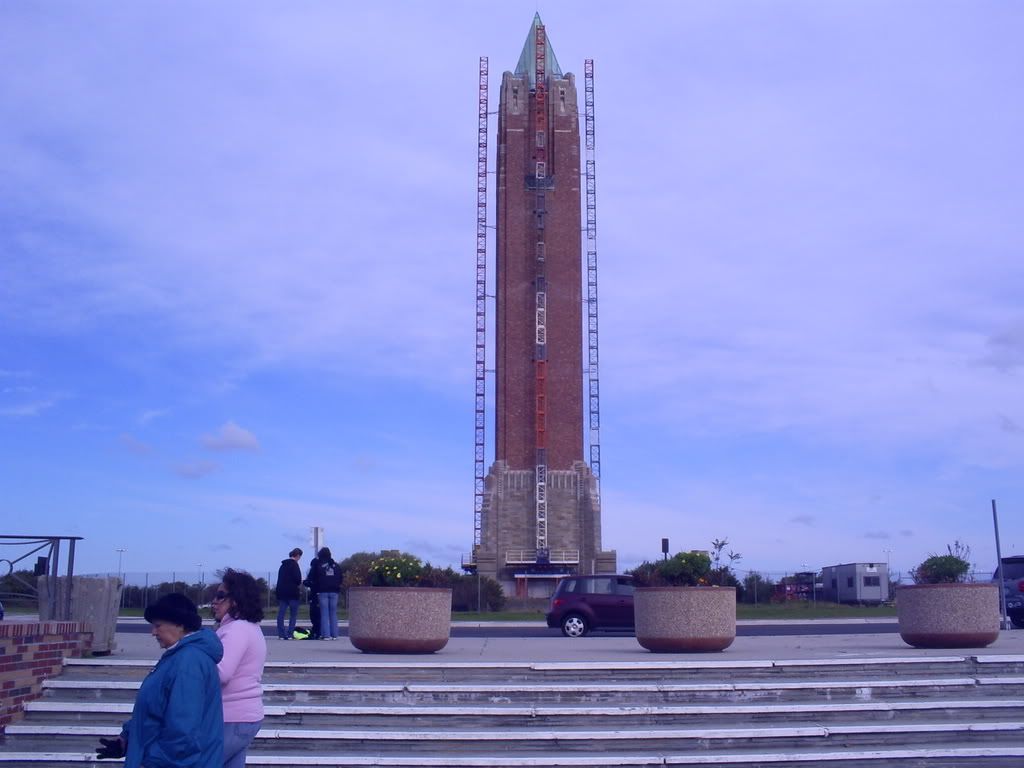 Today was the annual Making Strides Against Breast Cancer walk at Jones Beach. This was the third time I participated. I do two Ameerican Cancer Society events every year -- Relay for Life at our school every spring, and Making Strides every fall. I found out about this event in 2005, when Jen walked with her cheer squad.
In 2006 Becca and her friend A participated for Key Club credit. Jen was supposed to walk, too, but she was ill and opted out. I drove Becca and her friend, and walked alone while they did their own thing. Eventually i found Jen's cheerleaders and walked with them.
Last year, Jen walked with the cheerleaders, Becca walked with A, and I walked with a group of ladies from temple. But they walk a lot faster than I do.
This year Jen is away at college. I was invited to walk with the ladies from my cancer support group, but they were meeting at the Survivor's Tent at 7:45 in the morning, and Becca didn't want to go until later because she'd been at a party last night. So once again, my plans were to walk alone. I don't mind, it gives me a chance to observe what's going on around me. I walk because I am a survivor, and not only for myself, but for my paternal gradmother, who died of breast cancer before I was born, and ofr her daughter, my Aunt Sonia, who died of breast cancer when I was 14.
From the ACS website:








Why am I walking?
Today, there is more hope than ever for people facing
breast cancer. However, there is much work to be done to find promising new
treatments, increase awareness about the importance of mammograms, help all
women get access to screenings and care, and connect those impacted by the
disease with the information, day-to-day help, and emotional support they need
to wage their battle against breast cancer. I believe that hope for a world
without breast cancer starts with me. That's why I'm walking in the American
Cancer Society Making Strides Against Breast Cancer event. Not only is this my
opportunity to join my community to fight back against breast cancer, it is a
way to inspire hope by raising funds and awareness to help those facing the
disease and save more lives.And you can be a part of it, too. I have signed up
to walk and hope you will join me in my effort by signing up to join my team or
making a donation in support of my participation. Hope starts with us.







The Jones Beach walk takes places at Parking Field 5. You park your car, check in at the registration tent, visit the sponsor tents, and then head out to the Boardwalk to being the 5 mile walk. The walk takes you past Field 4 (Central Mall), the East and West Bathhouses, the now-closed Jones Beach Restaurant, and down to Field 2 (I think), where you turn around and walk back to Field 5.






















So Becca and I picked up A and headed to Jones Beach. It was cold today, colder than it's been in prior years, and we all made sure to bring jackets. Since we got there so late, we wound up parking in Field 4. There was a registration tent set up at the entrance to the Boardwalk, and then we were directed to walk back to Field 5 to visit the other tents and to start the official walk at the official starting pont. The girls and I visited the registration tent at Field 4, then went our separate ways.





















I was wearing my Relay for Life t-shirt, the purple one that shows I'm a survivor, and my pink socks with the pink ribbons, and my pins and bracelets for cancer awareness, but I wanted something that says "Making Strides" on it, so I bought myself a baseball cap at the merchandise tent next to the registration tent, then I trekeed back to Field 5.


























<











By the time I got there, most of the sponsor tents were empty (it was COLD!), but I managed to find my former sister-in-law in her union's tent. The line at the Survivor's tent was way too long (and I didn't have breast cancer, I had uterine cancer), so I opted to skip that tent and start the walk.







The beginning of the walk was lined with pink ribbons bearing the names of sponsor organizations, and a huge banner hanging from the underpass that leads to the Boardwalk. A troop of Girl Scouts cheered the walkers on. You walk 2 1/2 miles along the Boardwalk, past all the landmarks like the bathhouses, the restaurant, the mini golf courses, the bandshell. there ar ewonderful views of the Jones Beach Water Tower.

















I was inpressed by the crowds, by the survivors determined to walk all five miles, the young people on their high school or college teams, the medical professionals who care for cancer patients, the families of cancer survivors and cancer victims. I saw one man walking with the framed portrait of himself and his late wife on their wedding day. I saw one guy carrying a huge cardboard pink ribbon and lots of people in pink boas. I saw a dog in a pink t-shirt. And lots of men not ashamed to be wearing pink.

















I was impressed, too, with the awesome views of the ocean, the sand and the dunes. The surf was very rough today, from the Boardwalk you could see the waves breaking on the shore.



















I was NOT impressed with the restroom I stopped at during the walk...Can you believe broken doors and no supplies? Our tax dollars at work.









About 2 miles into the walk the volunteers hand out bottles of water. Even in the cold, I was dying of thirst and was so happy to see them.
















At the end of the Boardwalk is a fence, and people leave mementos honoring the survivors and the memories of the victims.


















The walk back towards Field 5 was much harder, the wind was blowing in my face so hard that I wound up with a windburn. by the time I got to Central Mall I was cold and tired. I stopped at the snack bar and bought a pretzel. Then I met up with Becca and her firend. We saw no need to walk back to Field 5, just to walk back to Central Mall again, so we made our way to the parking lot instead.











I didn't really feel pain in my legs from walking. But after driving home, well...it was very ahrd to get out of the car!











But I'm glad I did the walk. I needed to do it. You can find all my photos of the day here.








It's been years since they told her about it
The darkness her body possessed
And the scars are still there in the mirror
Everyday that she gets herself dressed
Though the pain is miles and miles behind her
And the fear is now a docile beast
If you ask her why she is still running
She'll tell you it makes her complete




[Chorus:]



I run for hope
I run to feel
I run for the truthFor all that is real
I run for your mother your sister your wife
I run for you and me my friend I run for life


It's a blur since they told me about it
How the darkness had taken its toll
And they cut into my skin and they cut into my body
But they will never get a piece of my soul
And now I'm still learning the lesson
To waken when I hear the call
And if you ask me why I am still running
I'll tell you I run for us all





[Chorus]



And someday if they tell you about it
If the darkness knocks on your door
Remember her remember me
We will be running as we have before
Running for answers
Running for more

[Chorus]