though one doesn't "really count."
Becca is a junior. she's done well on the PSAT exam, she's currently preparing for the SAT and the ACT exams, and every day she receives dozens of notices from colleges all over the country asking her to apply.
So this week, midwinter recess here in the northeast, my baby and I began to explore the possibilities.
Monday. we packed the car and prepared for the long drive from Long Island, NY to Boston, MA. I chose to drive up on 95. It would have been shorter to take a route through Hartford to the Mass Pike, but I have become comfortable with 95, it's the route I take when I drive Jen to University of Rhode Island. to be honest, I'm not used to long drives by myself, I usually have someone else to share the driving, and New York to Boston was a bit daunting.
It wasn't a bad drive. we left the house around 2:20 PM, left our town by 3 (Had to run a few errands before we got onto the highway) and were on our way. I put Becca in charge of the radio/iTrip, so the music tended to be Top 40.
And we play a game in the car -- "banana". The first person to spot a yellow car says "banana". but commercial vehicles, taxis, school buses, etc. do not count. I f you say "banana" and the vehicle turns out to be a taxi, you're not allowed to call "banana" again until after you find an orange car. Becca always beats me a the banana game.
Around 6:30 or so we crossed the Rhode Island border. by then we needed a break, so I pulled off the highway at exist 3A, the exit for URI, because I knew we'd find a Dunkin Donuts at the exit. Called Jen and let her know we were nearby, but we had no plan to visit her that night. We still had a long way to go
Please come to Boston for the springtime, I'm staying here with some friends and they've got lots of room...
We finally arrived in Boston around 8:30 -9:00. And that's when I decided that I will never complain about driving in Manhattan again! Driving in boston is NOT FUN. By the end of the trip Becca was tired of hearing me say "I don't like driving in Boston."
Finding the hotel..what a "joy". I'd booked us inot the Holiday Inn Express in downtown Boston. NEVER AGAIN. My GPS kept taking us to a tiny sidestreet across from the Boston Garden, but I was sure we were in the wrong place because I didn't see a marquis or sign for the hotel. We finally gave up looking on our own and called the hotel for directions. Turns out my GPS was right -- the hotel had just opened up and didn't have any signs except a small one over the door.
(click on the photos if you can't see the whole picture)
I wsn't crazy about the hotel. the staff was wonderful, but the hotel wasn't up to Holiday Inn's standards. The lobby was small, the halls narrow, the free breakfast bar unappetising. The elevator lights didn't work, and the elevator broke down twice while we were there. Parking was at a public garage a block and ahalf away. Our room was nice -- two double beds, a kitchenette area with a microwave and a refrigerator, free interenet (Becca made full use of the internet, as you can see.) a single, small window -- with a view of a brick wall. For the same room rate I could have stayed at the Doubletree and had a nicer neighborhood, valet parking and a real restaurant. But live and learn.
Becca did make full use of the free internet service, though.
by the time we were settled in and wanted dinner, all the restaurants in our neighborhood were CLOSED. ugh. I had to go around the corner to the 7-11 for provisions -- and saw things I hadn't seen in NYC since the Guiliani administration, i.e., the local homeless population. thank goodness I'd left Becca upstairs, she would have freaked out. I suppose the neighborhood is different when the Celtics or the Bruins are at home, but the area was desolate while we were there.
Tuesday. We got up early and found our way to the T, Boston's mass transit system, and bought our fare cards -- Charlie cards!
Oh will he ever return,
Oh no, he'll never return


and his fate is still unlearned.


he will ride forever 'neath the streets of Boston,


he's the man who never returned.
Being an intrepid New Yorker, riding the T was no different for me than riding the NYC subways. but my very suburban daughter was a little skittish.
Boston University -- our first campus. There are actually two T stops on the campus! We found our way to the admissions office, where Becca signed up for an information session, a tour of the campus and lunch with BU students. I took some pictures of the campus while Becca was having lunch. (No photos of the other campuses, alas, it's not cool to be snapping pictures while you're taking a prospective students tour). Becca loved this school. Go Terriers!
Afterwards, we took the T to downtown Boston, but got off at the stop for the government center and walked over to Faneuil Hall and Quincy Market for some shopping.
some times you want to go
where everybody knows your name
and they're always glad you came...
it seems like half the bars in Boston have adopted the Cheers logo.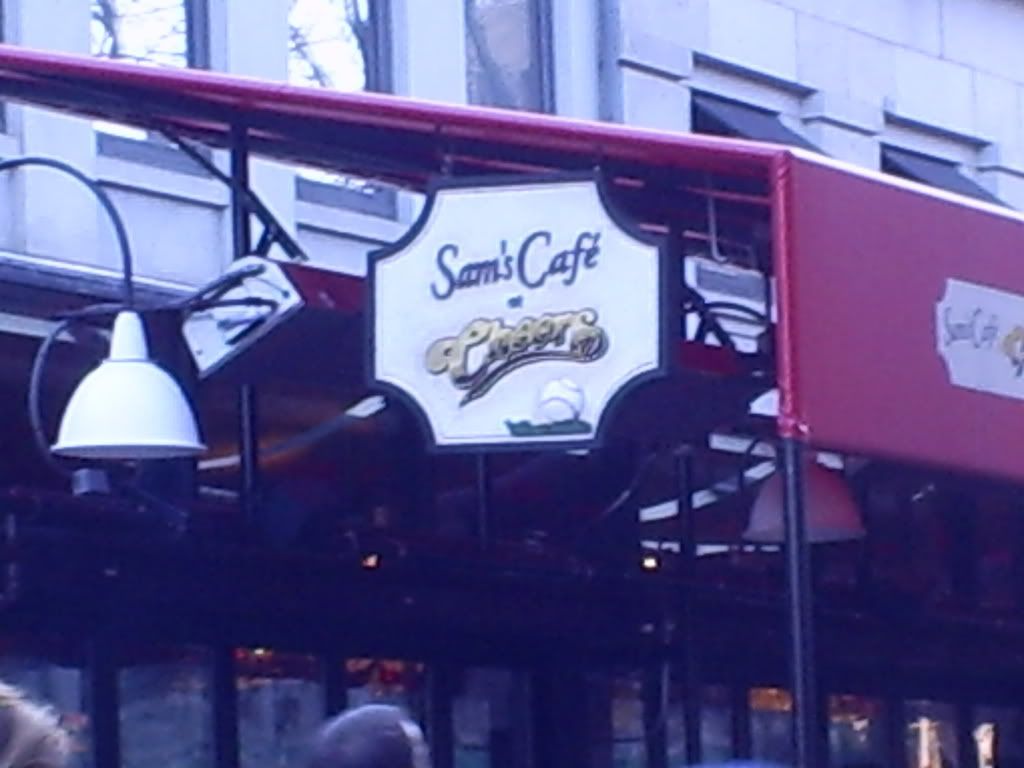 we stopped in Build a Bear and Becca made bears for herself and her current boyfriend.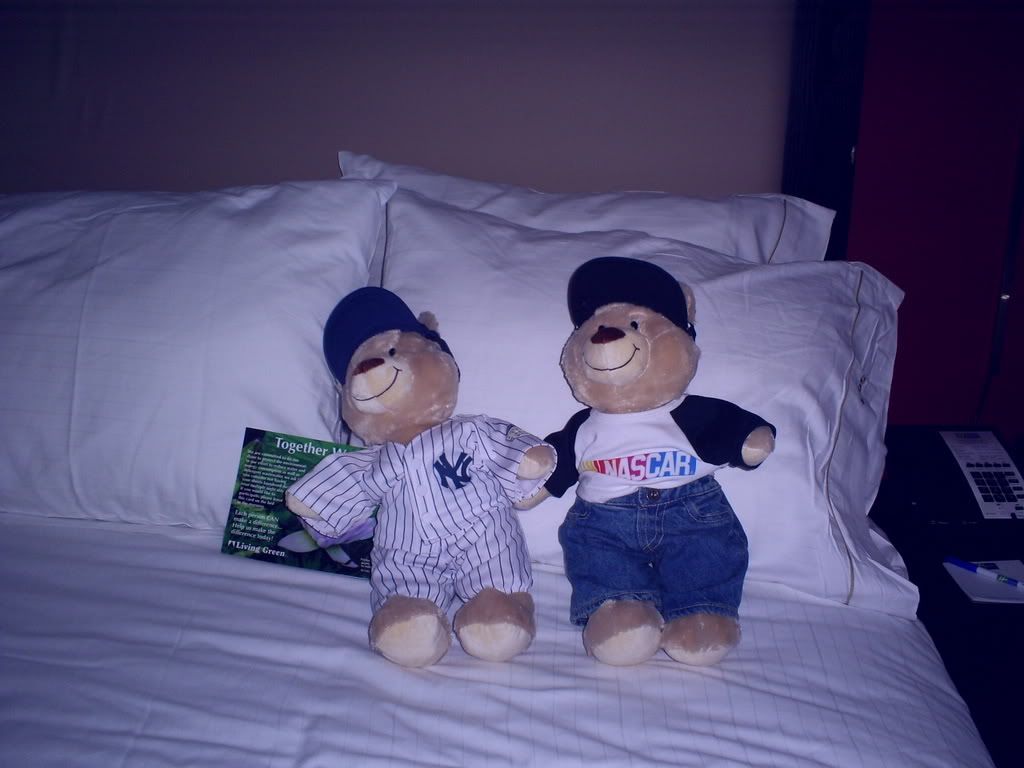 and here's a sign that made her very happy:
when we were done shopping we walked back to our hotel -- right past the New England Holocaust Memorial. the six glass chimneys represent the six death camps.
we were tired by the time we got back to the hotel, so we got take out dinner from one of the local restaurants and ate in our room.
Wednesday. We got the car and drove to Medford for a tour of Tufts. tufts is a suburban campus, but it's only a five minute drive out of Boston. the campus sits on a hill with magnificent views, you can see the Boston skyline in the distance. I loved the campus, with its sense of tradition -- P.T. Barnum was a benefactor, and he donated the hide of his elephant Jumbo to the school, and Jumbo became the school mascot. there are traditions about sledding down the hill and paiting an old cannon. but for some reason Becca HATED this school, and we bailed out of the tour halfway through. But she did buy some sweatpants in the bookstore. Go Jumbos!
We drove back to Boston. We were downtown, pulled over on a side street while I was trying to figure out my GPS, when we saw him -- a gentleman in full Colonial garb, walking down the street. Becca got a photo of him and will e-mail it to me, I was too busy fussing with the GPS to have been able to grab my camera in time.
Next stop was Boston College. We didn't take a formal tour, we'd come primarily to visit the bookstore and buy a sweatshirt for her boyfriend. She loved the campus, though, and thinks she may want to apply. Go Eagles!
Next we went back to BU, to take another look and to visit the school bookstore. gee, can you see a pattern here? One BU sweatshirt later, plus some hot dogs at the local trolleystop snack bar, and we were on our way.
Wednesday night...my birthday. we took a cab up to the North End -- I would have walked but for the snow -- and had dinner at Limoncello, a very fine Italian restaurant. I had veal piccata and Becca had filet mignon. I would have liked to walk around the neighborhood a bit, would have liked to stop in one of the bakeries and buy pastries, but it was snowing and miserable, so we ordered dessert in the restaurant (gelato) and took a cab back to the hotel.
Thursday. We were not unhappy to check out of the Holiday Inn. got into the car and headed to Providence. I would have liked to have seen the Brandeis and Northeastern campuses, but Becca really wanted to check out Brown. She'd seent he campus one summer while on a trip with camp and wanted to go back. I think Brown is a bit of a reach for her, but I can't say "no" if she wants to apply.
the campus sits on the top of a hill. it's rich with tradition, as you'd expect. we learned that you shouldn't walk through the main gates more than twice in your career at Brown; men won't graduate and women won't marry if they do. the marching band carries their instruments upside down when they walk through the gates.in addition to the main library, there are three "sacred libraries" housing noncirculating collections -- don't visit all three in your freshman year (same legend as the gates). there's an old building with an organ, the students attend concerts on Halloween and other scary occasions. and the a capella groups love to do impromptu concerts in various archways. at one point we walked into a classroom building and I noticed that there was a lecture hall named for C.V. Starr -- he founded the company that eventually became AIG (hi, boss!) Becca loved the school. We had to stop at the bookstore and buy a sweatshirt -- GO BEARS!
campus number 5 -- University of Rhode Island. My comfort zone. All along the drive from 95 to the campus Becca made jokes about the cows and the farms. URI started as an agricultural school. Jen loves it, but Becca wants an urban campus. We went to Jen's dorm (no photos this trip, but I will share the ones I took when Jen moved in last September), and took Jen out to Applebees for an ealry dinner. Becca did not need to visit the bookstore here, she already has Rhody Ram gear.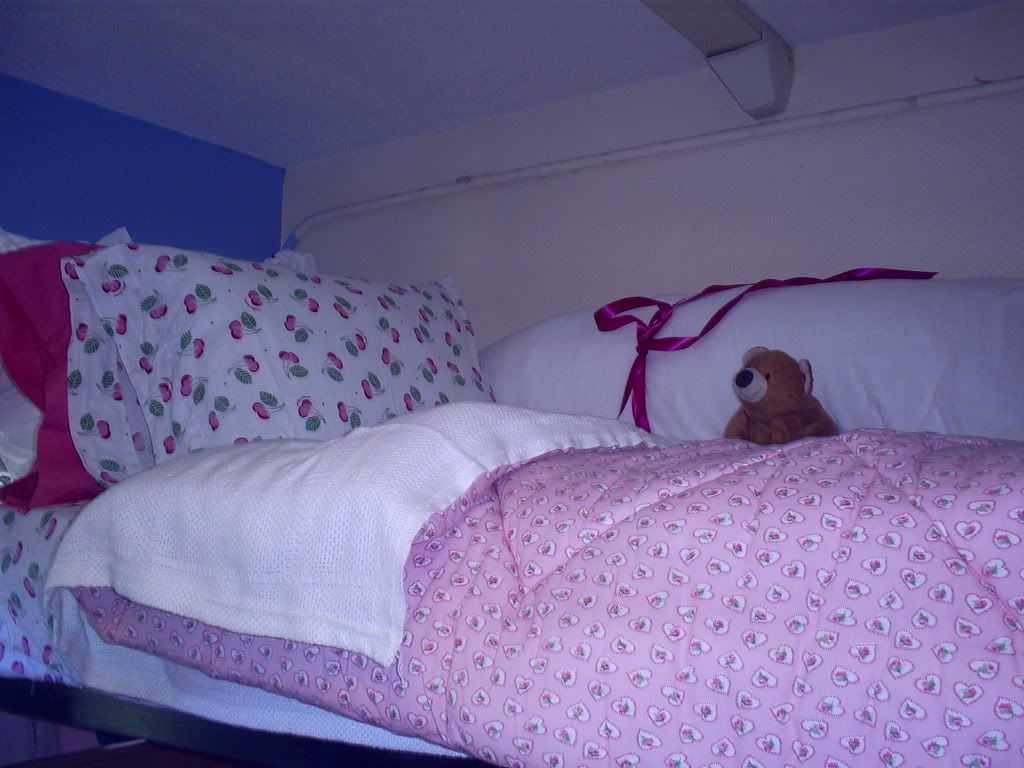 the long ride home -- through rain and snow showers...
and when we got home Becca freaked ...there were dozens of pamphlets and brochures on her bed, from every college from here to Chicago...
the adventure is just beginning.