Taking some time away from the bitchfest to talk about another great NYC night. Our evening began at the Stage Deli. We've been here before, and enjoyed the experience. I was pleased to learn they have a Passover menu. I ordered matzo brei (a fried concoction of matzo and eggs) with mushrooms and onions. It was served with sour cream and applesauce. I will be enjoying the leftovers tomorrow. Drew had a tongue sandwich, his usual deli fare. We were not disappointed.
When we walked into the deli, shortly after 6, there was no wait for a table. The place was hopping by the time we finished our meal. Next we walked to Times Square, where, I am happy to report, Stanley Cup Fever is alive and well.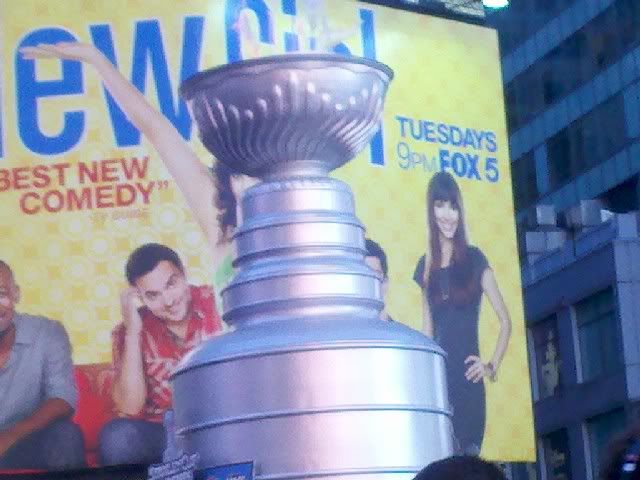 Yes, that is a huge fountain in the shape of the Stanley Cup. Our destination was the theater, for a "new" musical comedy called "Nice Work If You Can Get It". Very frothy concoction featuring Gershwin show tunes, it stars Matthew Broderick and Kelli O'Hara. Rich playboy falls in love with lowly bootlegger who is using his Long Island mansion to hide her crates of gin. The tone of the play is witty and sarcastic. Loved the scene where she sings "Someone To Watch Over Me" as she expertly handles a rifle. The audience really lived the performances. I can't wait to read the reviews when it opens on the 24th. Afterwards, Drew bought a poster and had it autographed by most of the principals. As usual, we walked back to Penn Station, where we were engulfed in a sea of Rangers jerseys. Yes, they won, so it was a good evening all around.