remember this guy?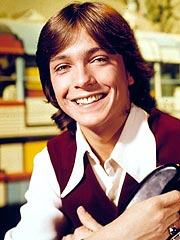 David Cassidy was my first real teen idol.
I mean, I really liked Davy Jones when I watched "The Monkees", and I thought Bobby Sherman was cute.
But David....that was true love. I got to see the object of my affection every week on "The Partridge Family". I bought the albums, the book covers, whatever my mom would let me buy. I memorized all the words to all the songs, I'd sing along tothe albums, then go outside and pretend my front porch was a stage... I cried because I never, ever went to a David Cassidy concert.
it wasn't until many, many years later that I got to see David in person.
David and his brother Sean, along with Petula Clark, were starring in a Broadway musical, "Blood Brothers". (what a remarkable talent David is, how sad that being a teen idol almost ruined everything for him.) what a night it was, finally seeing the man who won my heart so long ago.